2018 - Individual Project

The brief of this project was to develop an individual proposition for an innovative brand experience for Bridge of Weir Leather (BoW) based outside of Glasgow, Scotland. Specifically looking at 'experience design', I will explore ways in which design may build on Bridge of Weir's brand values and strategic business goals to develop touchpoints. These touchpoints aim at strengthening connections between BoW and their existing/new customer base in new ways.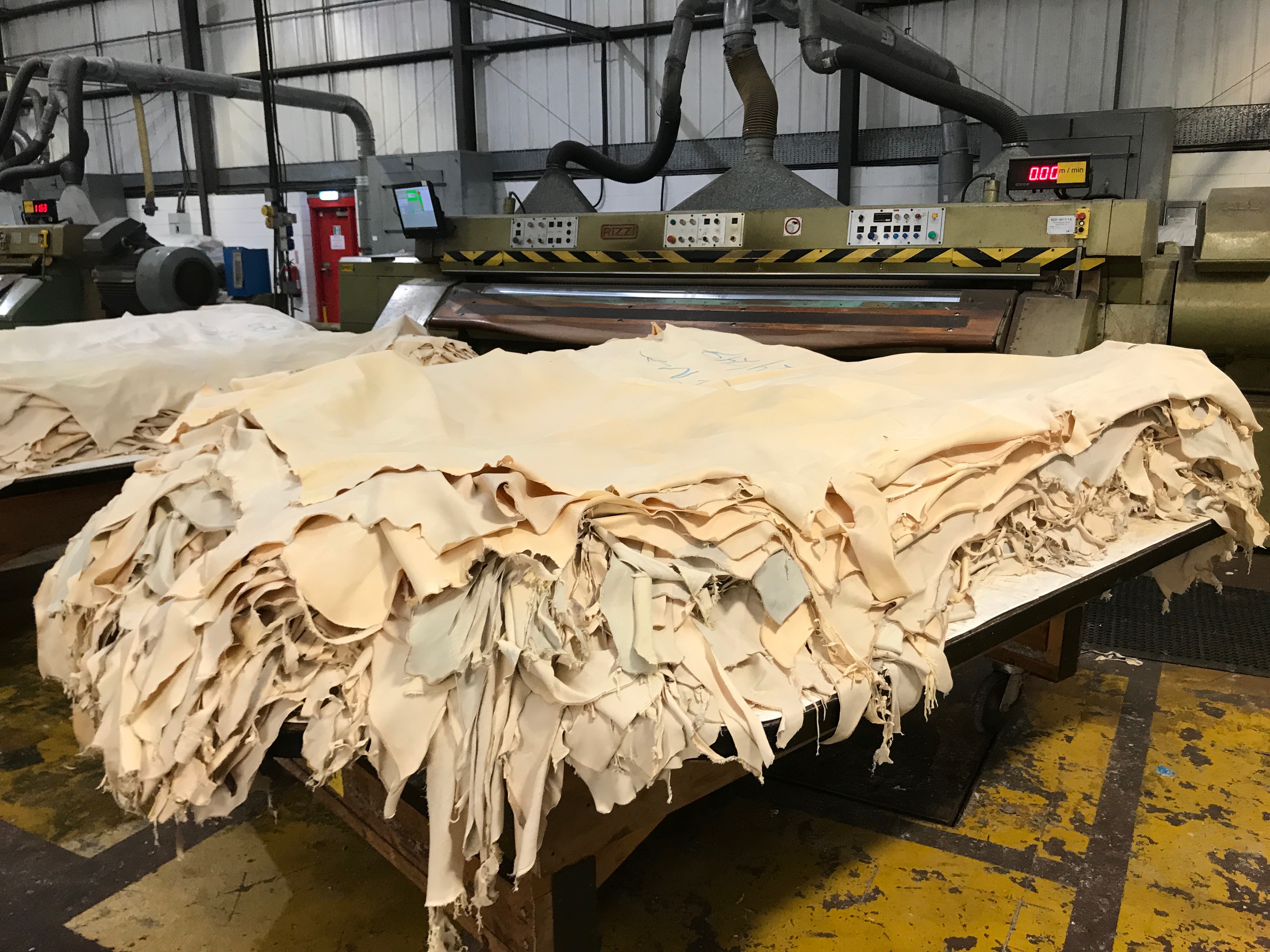 Bridge of Weir is a Scottish manufacturer of luxury low carbon automotive leather. Formed in 1758 the company made leather for a variety of products before transitioning into the automotive industry in 1911 to support Henry Ford's first mass produced car, the model T. The business operates under the Scottish Leather Group that manages five leather related companies servicing different markets. The company pride themselves as being the oldest automotive leather suppliers in the world and therefore strive towards innovation and sustainability in order to stay at the forefront of their profession. Through initial group research, we found that the production achieved by Bridge of Weir in one week can be manufactured by their competitors in a single day. Despite this, the company thrives due to the premium, bespoke nature of the leather they produce, as well as the way in which they process it.
Vision Statement:
To be the most respected Global leather brand and supplier of choice to our competitors.
Mission Statement:
Our mission is to maximise customer and shareholder value through leading sustainable manufacturing practices, continuous innovation and outstanding service.
Currently there is roughly 900kg of waste leather produced each week from the cutting process that is shipped to China, India, Pakistan and Bangladesh to be used in small leather accessories or to be disposed of.
As well as reducing 'Hide Miles' (the distance each hide has travelled to reach the manufacturing building in Scotland) BoW should also aim to reduce the distance the off-cut leather has to travel and the uses this 'waste material' could have.
---
This led to a design for a lightweight bespoke leather that Bridge of Weir could either produce, or use from their off-cuts as a way of padding the carbon fibre seat and providing a bit of comfort for the drivers. As the idea of Formula E expands with developments in sustainability, I believed Bridge of Weir could collaborate with a racing team such as McLaren to bring recycled leather comfort to drivers. At the same time, this would allow Bridge of Weir to travel to Grand Prixs around the world, promoting their business as well as tapping into a younger generation of car enthusiasts attending these races.
As another idea, I had researched businesses situated within Glasgow that also used leather in their products. Amongst many, Paulin Watches on Great Western Road stood out as having an innovative and sustainable design ethic, similar to Bridge of Weir. The leather used there is mainly imported from Italy and so an opportunity for Paulin Watches to use the luxurious waste leather from Bridge of Weir became apparent. Although seemingly a good idea, I later discovered that the leather they imported for watch straps is much thicker than leather used to upholster automotive seats.
From working with the leather and beginning to stitch it, I realised the amount of skill involved and subsequently wanted to tailor my ideas towards a touchpoint that was more personalised for each individual that decided to invest in Bridge of Weir Leather. The focus of my project shifted from designing exterior products for those interested in cars and leather, to designing a product that could be experienced within a car and affordable to anyone that otherwise couldn't experience luxury leather interiors.
---
My concept was to utilise the waste leather to create personalised headrest covers for anyone to purchase. The covers would promote Bridge of Weir without having big brand labels on it, through the recognition of customer's initials in the centre.
Continuing on from the refinement of the headrest form, I decided to create the covers in mismatching pairs. I thought this was a playful way of further creating unique designs that no two people could own. The product would arrive as a set for the front two seats of the consumer's car, complete with matching, mismatched seatbelt pads.
Due to the fact that a lot of cars hold a strong emotional value to their owners, I did not want to take all of the attention away from the interior as a whole, but instead add a subtle bespoke feel through the use of beige and cream leathers. The design was intended to complement the interior rather than be an eyesore.
As the user spots the headrest covers, they approach the car to get a better look at the unique, luxurious design. Upon arriving at the car they notice that there is a small QR code on the window side that catches their attention. If they wish to, the pedestrian can scan the code which would direct them to the Bridge of Weir app designed specifically for the product.
On the app the user has the choice to design and personalise their own headrest through the selection of 2-3 colours of leather after viewing Bridge of Weir's vast selection. Afterwards they can add their own initials and in what font or style of perforation they desire, before selecting the model of car they own to inform BoW of what size to make them.
A few days later a Bridge of Weir box would arrive with the personalised headrest covers for both front seats of the car, as well as matching seatbelt covers. The video I chose to make to promote the product would follow a similar sequence to the one demonstrated in this storyboard.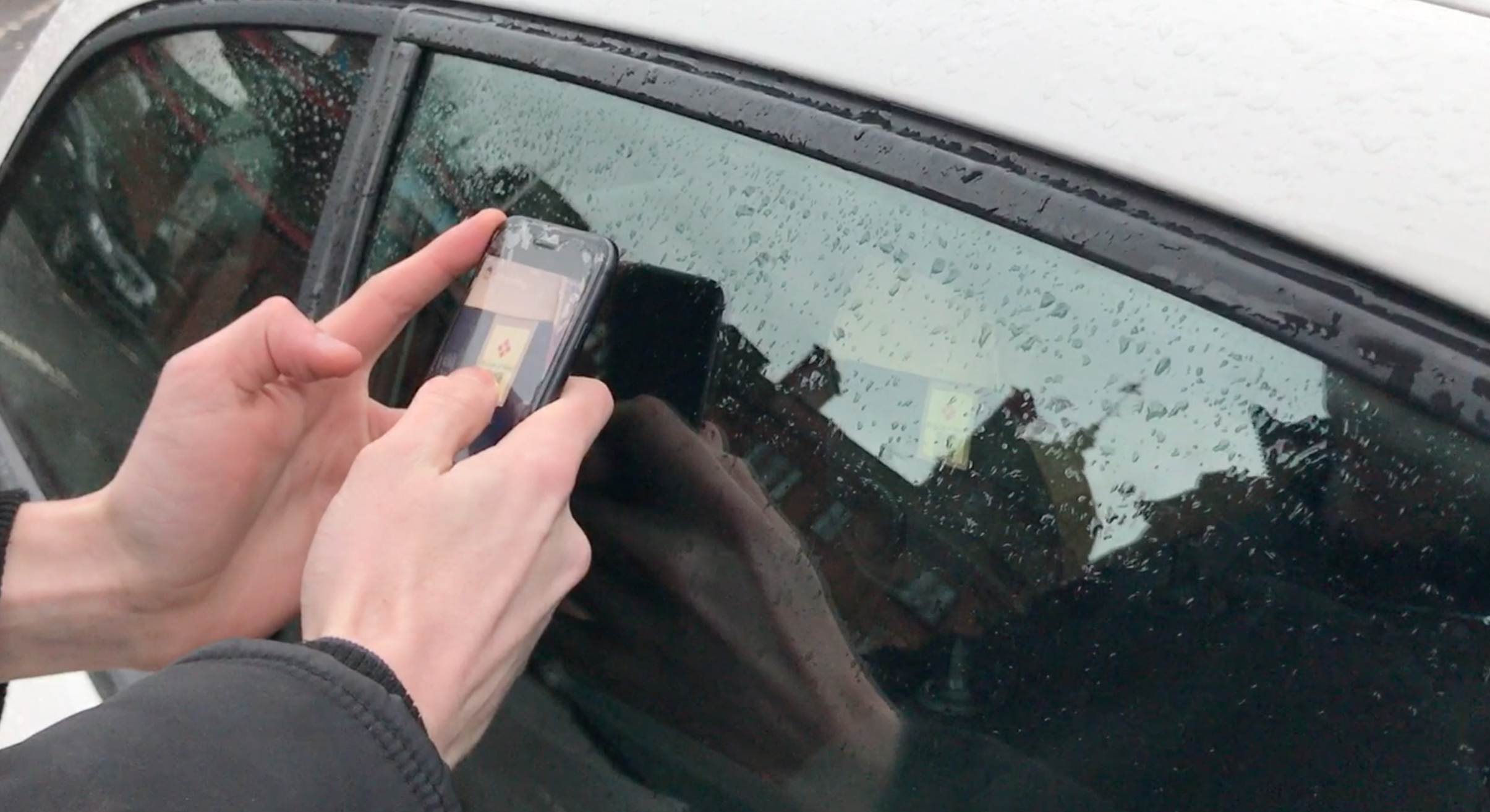 ---
After discovering multiple ideas of collaborative projects with local Scottish companies, increased advertisement, improved trend packages and client loyalty packs, I decided to pursue the idea of a bespoke, personalised product that would be available for everyone and would tie together Bridge of Weir's unique selling points. Building on the business' existing customer base I wanted to expand the customer demographic to involve the younger generations of drivers who will one day form the basis for the autonomous automotive industry that Bridge of Weir wants to be a part of.
The HeadVest concept I chose to pursue looked at using recycled leather made using traditional leather craftmanship techniques. As well as this I wamted to close the gap between Bridge of Weir and the people buying the cars that are upholstered in their luxurious leather. After an iterative process of changing the size and forms of my headrest covers I had settled on a vest-like shape that hugged the original headrests and provide the user with a comfortable surface to place their head against.