2018 - Group Project

As a team of 2, our aim was to create a speculative brand, Brand X, designed for a room in the house, that would improve our quality of life in the year 2028. Anticipating future concerns, desires and behaviours were key to developing a business opportunity for futuristic living. The brand then had to be showcased as part of a exhibition of 'Homes in 2028'.

We are Hitch, a global living service brand for travellers with a selection of products that can be used within our Hitch Hubs located around the world.
Hitch Hubs are part of our vision for a subscription co-living platform, in which subscribers are able to work and travel with freedom and safe in the knowledge they will always have a place to stay that feels like home. We care about connecting people, but also providing a sense of comfort that everybody expects when they get home after a long day's work or exploring a new city.

Group:

Emma Chisholm
Struan Stewart

Groups each chose a room and we went for the Living Room. For 6 weeks, we then to incorporate into our brand. We explored artefacts, behaviours and concepts that together not only form a strong identity but also create trust for the user through the reliability and delight of the product.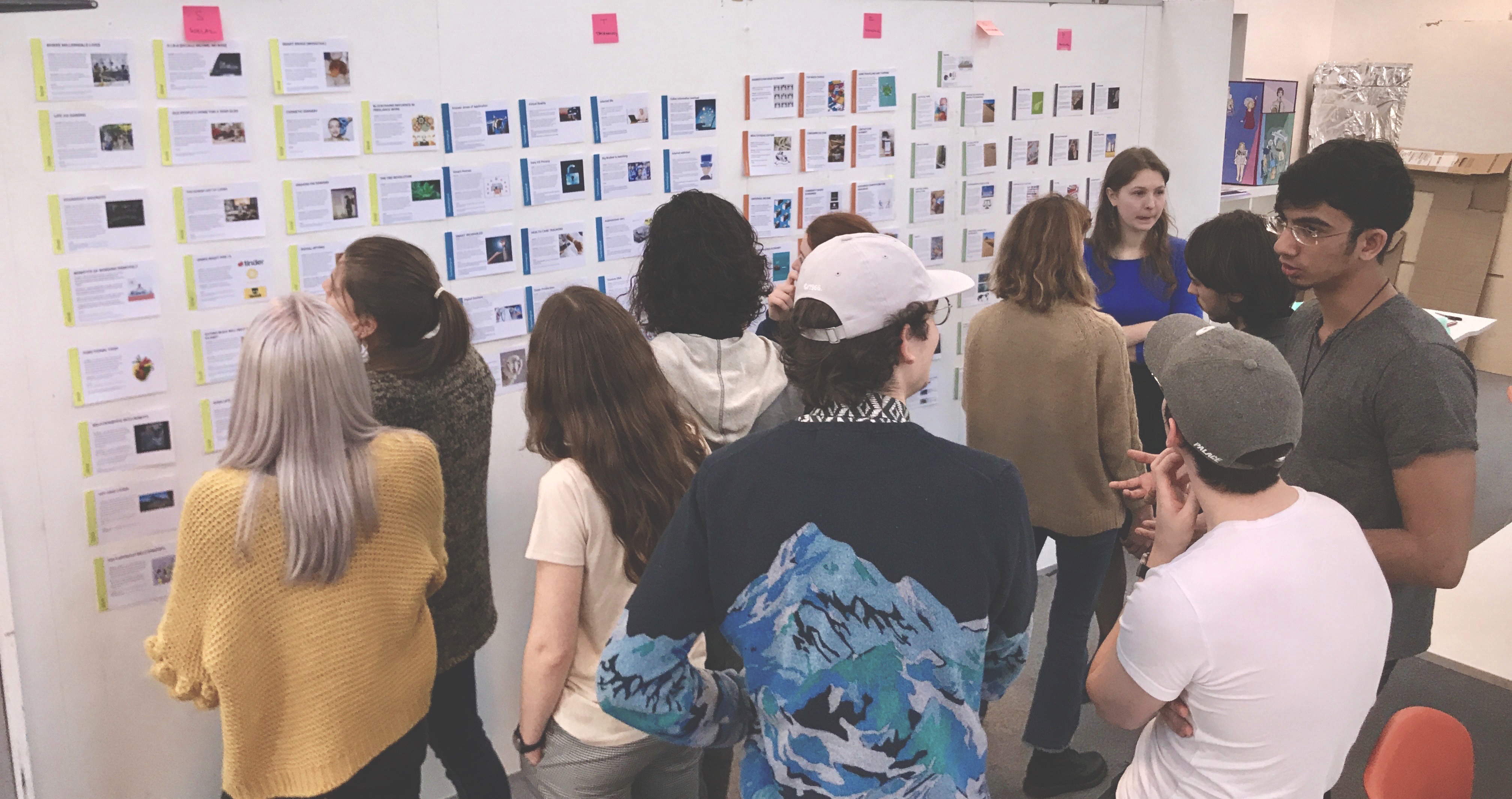 As groups, we researched social, technological, economic, political and environmental elements to build up a diverse spread of information which allowed us to determine potential trends for future living. STEPEE cards helped us explore possible avenues for our brands.
My prediction is that people will become more independent and self sufficient in the future with automation and smart technology in homes allowing people more time to focus on what they enjoy doing.
There is already a trend for communal living as more people move to big cities where land is at a premium and living spaces expensive.. Sharing accommodation allows communities of people to live and work together in a more cost effective and sustainable way.
Service specific companies like Uber and Airbnb provide an experience through an interactive platform that allows ease of travel. When considering our living room brand, we aimed to take the hassle out of travelling so that people could relax and enjoy their destination. Speculating that city living would become more expensive, we focused on a service driven brand that would be more affordable and convenient for a community of travellers in helping them to enjoy the ability to create a home wherever they were in the world.




the living room, the social hub

_meeting space for family, friends and strangers
_plenty of seating
_warm and welcoming environment
_social hub of home
Global research indicates rising property prices influence the way we utilise space. Traditional living areas are becoming less defined with multi purpose, reconfigurable and open planned family rooms becoming more popular.
We deliberated on how to link our brand name to the idea connecting people in a shared living environment. We settled on 4 options to portray a smart, shared, evolving and environmentally sustainable living space. Understanding that 'home' is no longer restricted to a defined location, we wanted to create an experience that would allow people the freedom to feel 'at home' wherever they were through the connection with other people and nourishment of our 5 emotional needs; privacy, security, comfort, ownership and belonging.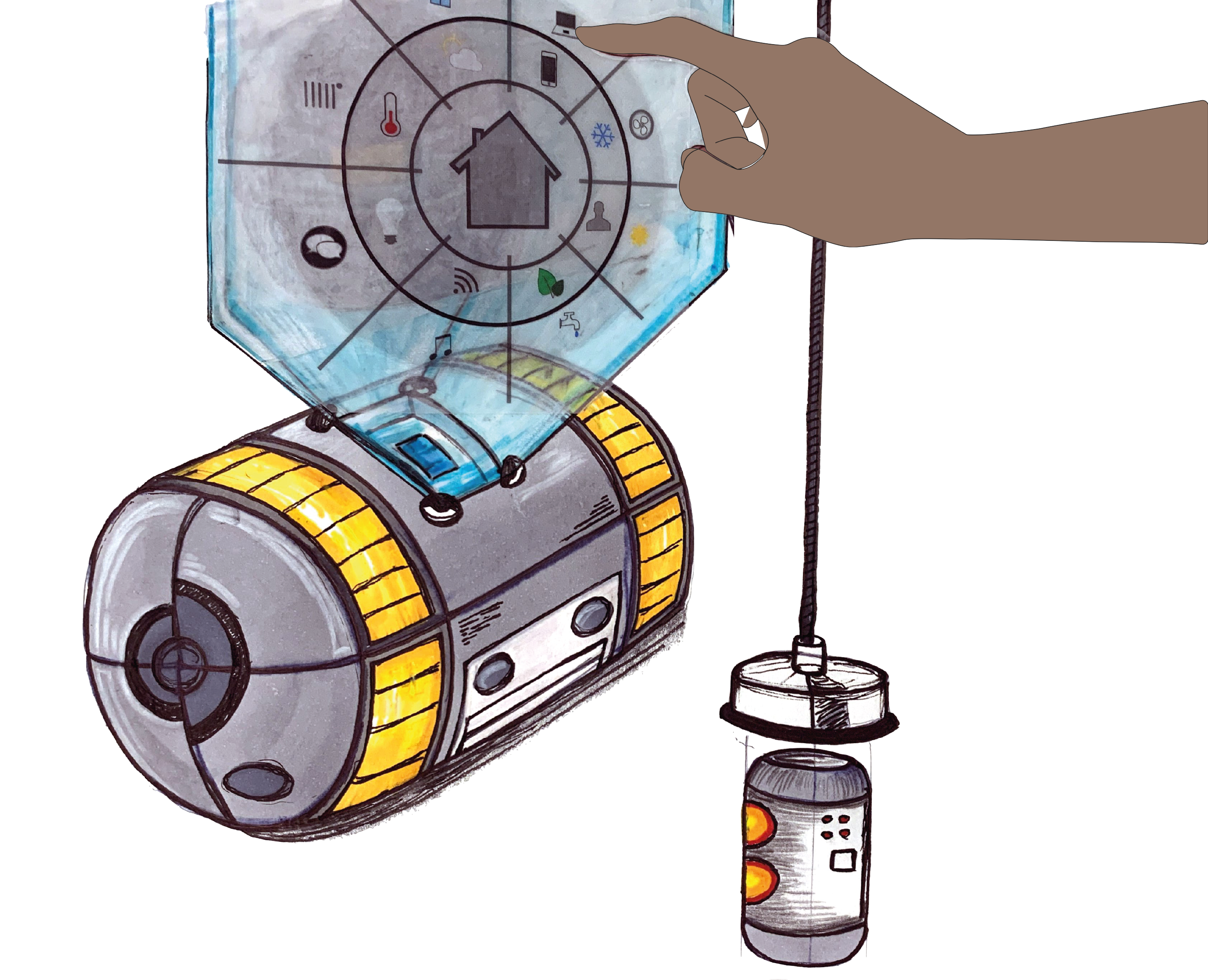 The light source became the obvious central point of the living room, creating a warm, inviting environment where people could gather and spend time socialising. The design focuses on an interactive and interchangeable environment. A key element involves being able to change the height of the light to provide different coverage within the space. An initial idea (seen on the left) involved incorporating a digital screen around the surface of the light to display visuals - such as a fireplace to replicate the same feeling as having a real fireplace. Users could sit around the light and experience the warmth from the digital fireplace whilst at the same time viewing the weather forecast and watching the football highlights.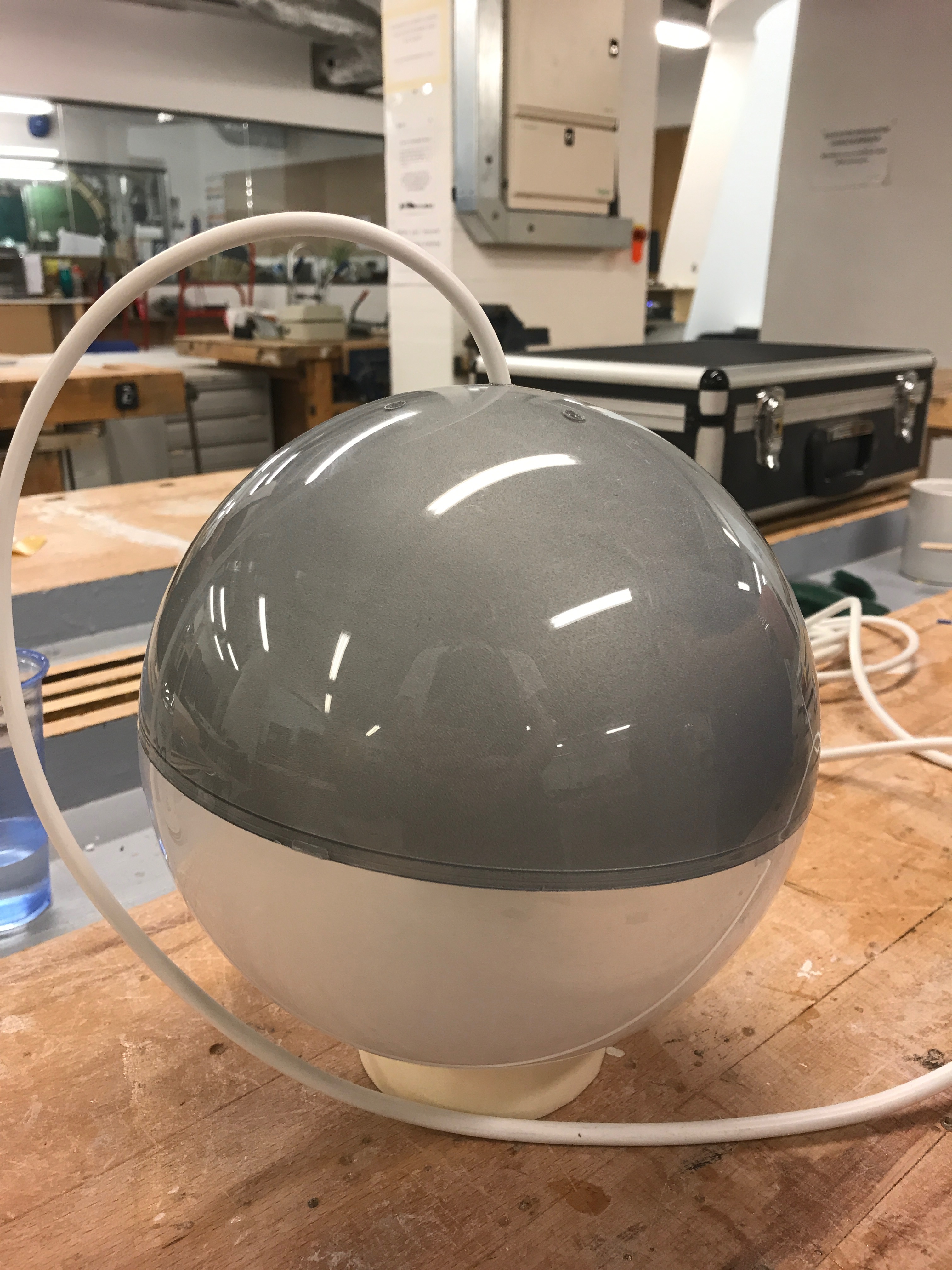 Instead of verbal communication the Atmos operates using sensors and collecting biometric data through a wrist band. This band would be automatically sent out when a user subscribed to Hitch. With the platform allowing them to travel to any major city worldwide, the band would allow people to control the light subconsciously.
Waving, signalling or pointing at the Atmos will alert it before it reacts to your desired use of the living room space. Using RFID chips in the wristbands, the Atmos can detect the inhabitants' heartbeats and change the atmosphere to improve their moods. Social gatherings could enhanced by the Atmos displaying visuals that change to the beat of the music.
Example:
Jake sitting in the living room of his Hitch Hub in Hong Kong watching TV. He decides work on his laptop and removes it from his bag. . The Atmos recognises his laptop as well as Jake moving into a position to work and begins changing the environment. This would involve a blue hue of light to boost his concentration and scents such as lavender to improve his mindset whilst he works. A language of hand gestures combined with motion detectors in the Atmos would allow the light to be dimmed, change the colour in the room, and boost the experience of users in the space. The band would be made from a rubber providing elasticity and comfort for the wearer.
The logo evolved to represent the sharing, universal nature of the service. It was important that it wasn't too clinical or corporate. Different iterations demonstrate the 'hitching' of people together through their new communities. The final iteration of our logo (seen on the right) combine playful elements of colour and flowing letters which represent the constant changing nature of the living room space.
Our brand would be a service brand for young professionals living in a co-living community establishment. Supporting a sustainable ethic, it would provide an immersive experience using smart technology and a reconfigurable space. The name Hitch conveys the idea of hitching people together worldwide through innovations in communication, multifunctional spaces and the well-being of inhabitants.
Brand scalability could be achieved by additional products to improve communication between strangers in the space or to create an interchangeable interior solution for different functions. The well-being of user would remain at the heart of any product development.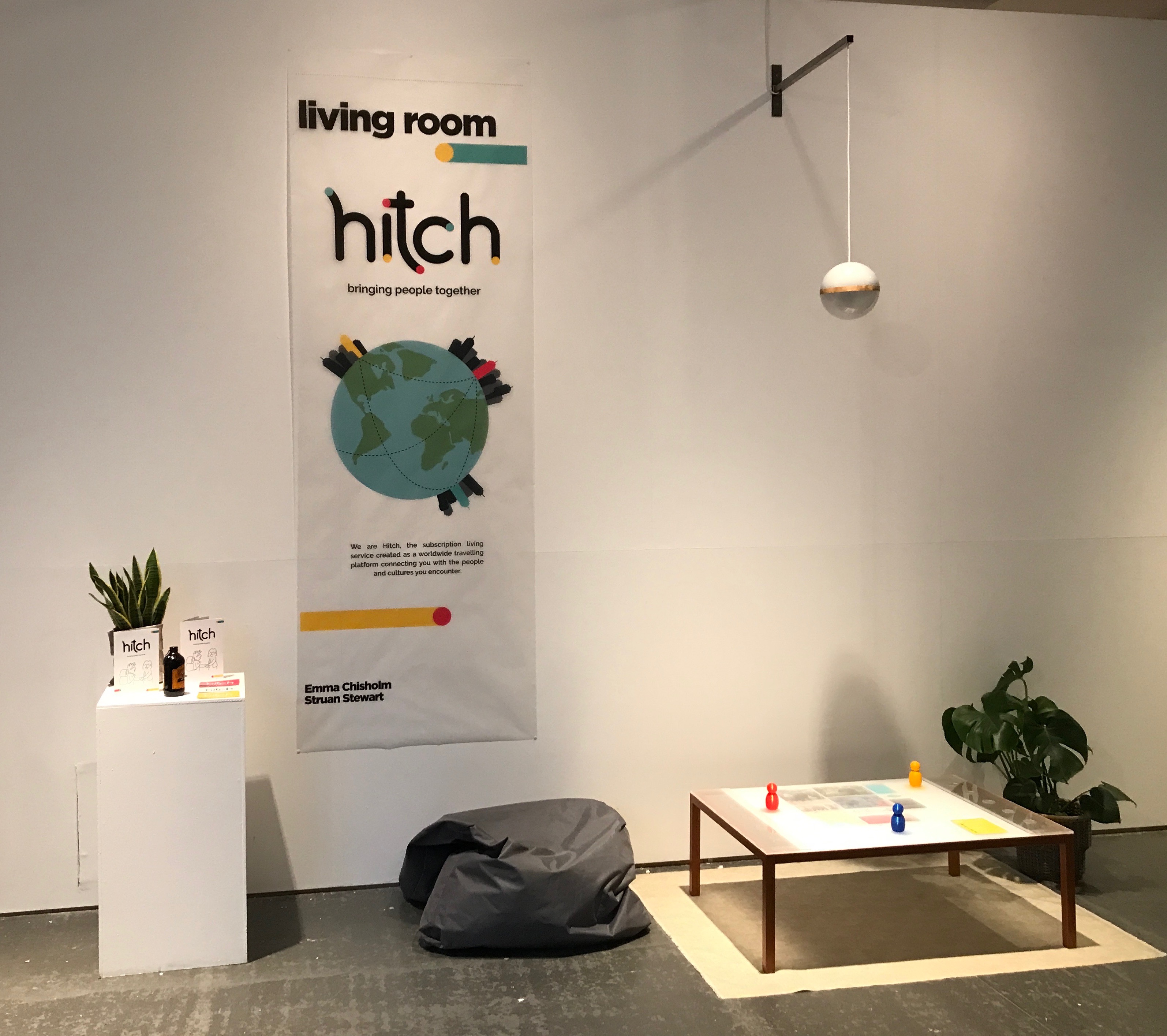 Manifesto
Hitch is a subscription living service that provides a playful and exciting travel experience to young professionals. Hitch is a 'home from home' solution which takes away the worry of where to stay when arriving in new countries. Hitch also creates products to be enjoyed in the Hitch Hubs around the world. Designed connect travellers and to make the living room the best possible space for all travel and social requirements.
Hitch was well received as a concept and it was agreed that subscription service living was a trend in our sharing economy that was destined to continue and increase in the future. The strong brand identity with its bold logo appeals to a younger generation whose priorities are about having the flexibility and freedom to travel at will. We were advised to highlight the quality of the subscription service by tailoring each product to help like minded people in the communal living room enjoy a comfortable harmonious atmosphere. The fact that our group lost a person during the project meant that we only had 2 products through which to communicate the brand which was challenging.
Overall I am proud of the brand but recognise there is room for refinement especially within my own product, Atmos. Emma's Avatars were a well explained concept which I believe could be enjoyed by anybody joining the Hitch platform. Developing the identity over 6 weeks enabled us to explore and adapt many ideas before we showcased what we considered to be the most relevant for the future Brand X.
As a futuristic brand in a new age of subscription living, I think Hitch would have to constantly evolve and introduce new products to stay ahead of competitors but there is no doubt that this more flexible style of living is the future and here to stay.