2018 - Group Project

Year 3 Product Design began with a collaborative project with the NHS exploring the provision of sexual and mental health education for students and their experiences of it.

As a group of 8, we were to make research trips to the Royal Edinburgh Hospital (REH), present our findings of the current provision and then develop design opportunities and strategies to address the issues raised in the presentation. Working with three stakeholders our objective was to improve both the academic and practical education of Medical students at Edinburgh University and inspire them to follow the route of Psychiatry in their medical studies.

The 3 main stakeholders:

Edinburgh University (EU)
Royal Edinburgh Hospital (REH)
National Health Service (NHS)

Group:

Struan Stewart
Catarina Ramos
Eilish McArthur
Assigned to mental health education, our group's task was to help the REH encourage more medical students from Edinburgh University choose a future career in the psychiatry of older adults.
We met with Consultant Psychiatrist, Mr Robert Clafferty, at the hospital where he explained we were to take part in the intensive 3 day course currently taught to 5th students, analyse it and establish ways to adapt and redesign the format to make it more appealing and memorable for students.
The consultant's office was a good example of the calm, welcoming and eco friendly atmosphere the renovated psychiatry wards provide for both patients and staff.
Psychiatrists need to be inquisitive, empathetic, holistic, observing and compassionate. They also need to rise above the stigma attached to mental health. The entrenched stigma inferring that psychiatry requires communication skills as opposed to medical skills could not be further from the truth. Psychiatrists require a broad knowledge of all areas of medicine when prescribing medication and behavioural intervention. Compared to other specialties such as general practitioners, surgeons, accident and emergency doctors, psychiatrists have a better work/life balance. They spend half their working day in the community, performing occupational therapy as well as visiting patients recently discharged from the REH.
Objective:
Develop a bespoke programme for both the teaching of the students and the creation of a good learning environment for them. Our experience as 'medical students' had provided us with a good understanding of the elements of the course that could be adapted or elaborated.
Our aim was not just to attract medical students to the speciality of psychiatry, but to persuade them to embrace this unique field of science with the art of creativity. We wanted to target confident students who could handle the complex issues involved in psychiatry.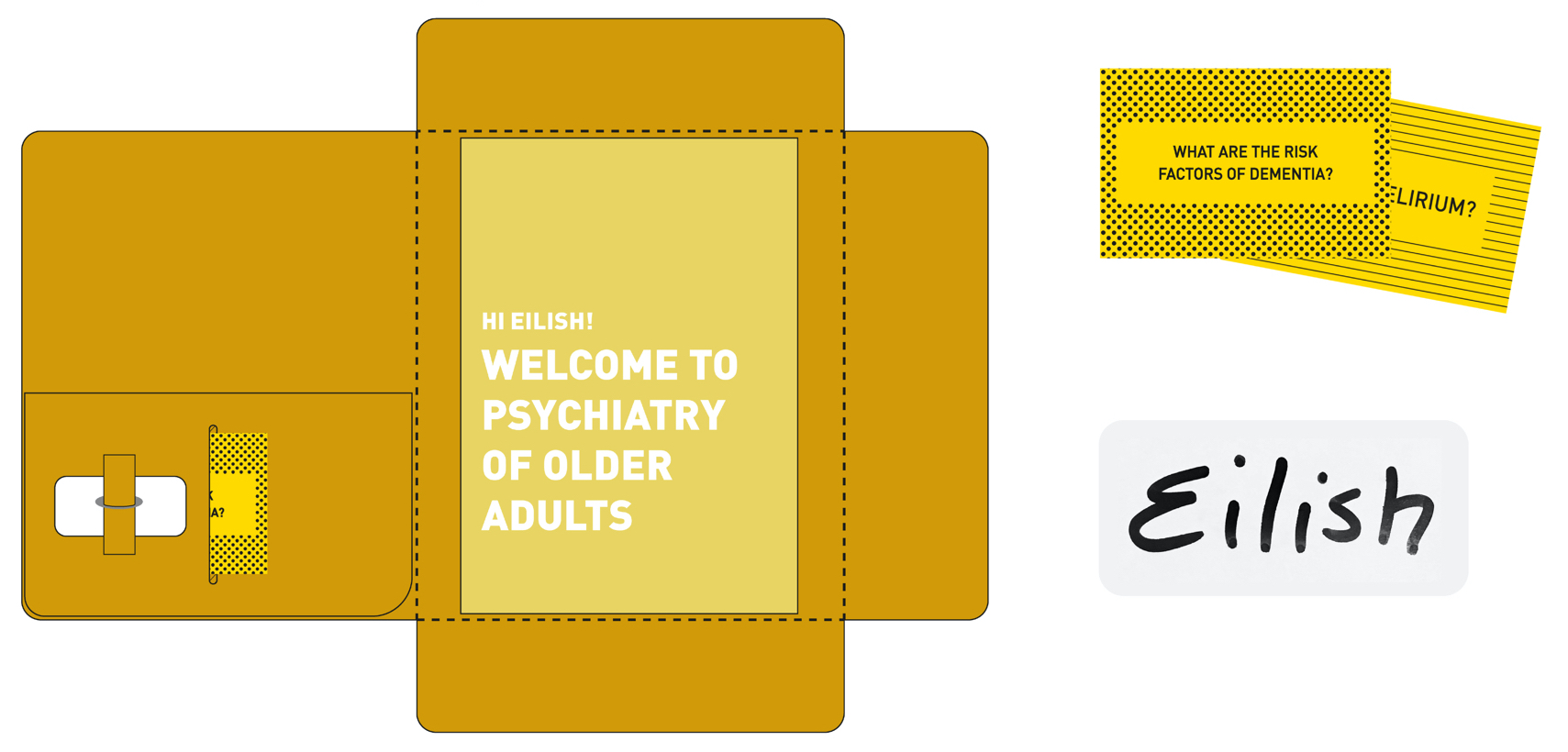 _Yellow is creative from a mental aspect, the colour of new ideas, helping us find new ways of doing things. It is the practical thinker, not the dreamer_
Students on attachment are in small groups of 4 so a PDF template of the booklet could be produced for the department thus allowing it to personalise the booklet for each student and have them printed locally when required. Flashcards could enhance the welcome pack experience as we had observed students playing medical related games and testing one another's knowledge in their free time.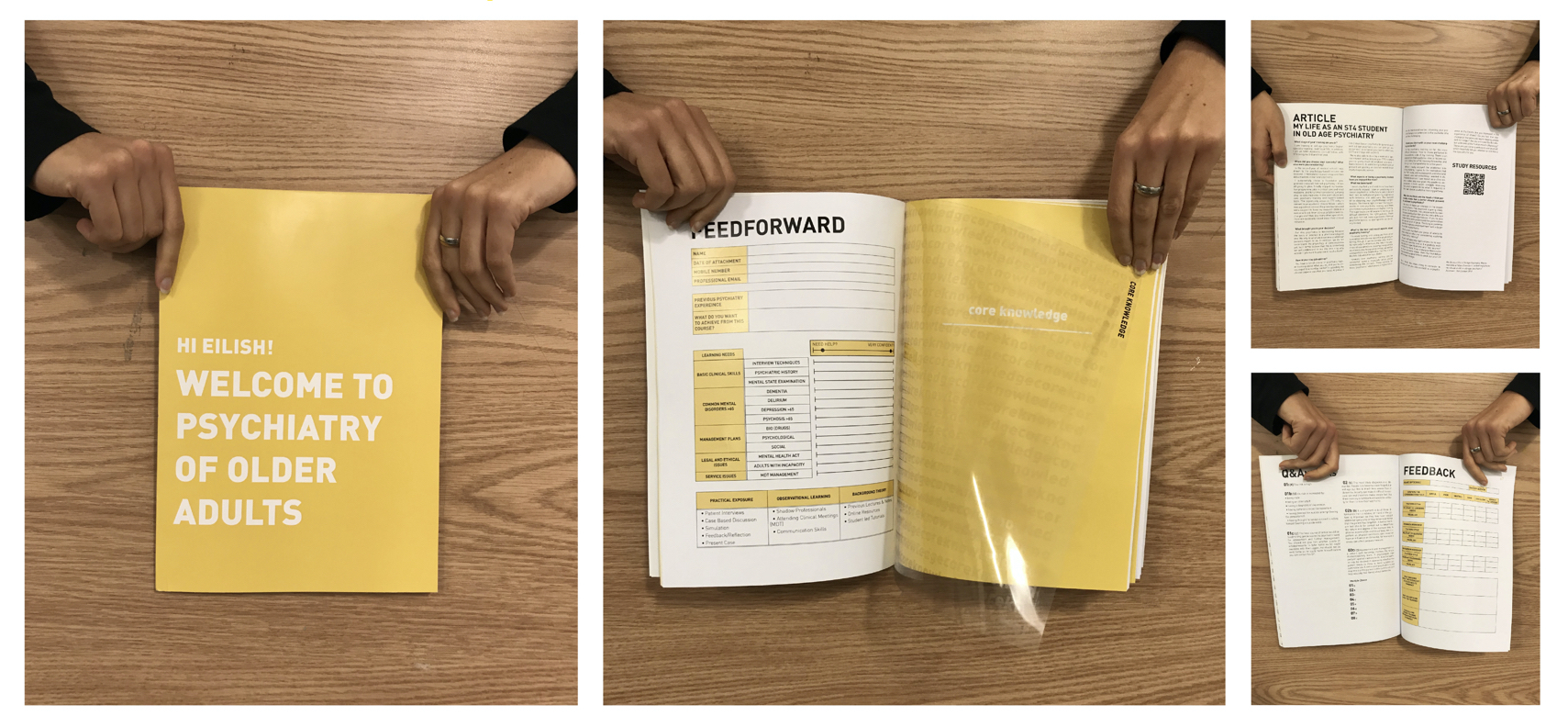 The 3 design components would be produced using recycled paper and card as it was important the project be as environmentally and socially sustainable as possible. Bright yellow made the booklet easily recognisable and helped identify students on the course. Hopefully, this would encourage more interaction between staff and students. Perforated edges distinguish the feed-forward and feedback pages which students would complete and leave with the psychiatrists throughout the course.
The booklet/workshops must test students by including appropriate questions; clarifying, justifying and probing. They must convey the core curriculum in a modern, engaging manner and allow students to add their own comments in the spaces allocated for notes.
Current touch points include lectures, student-led tutorial posters and loose A4 sheets. As well as making students feel more comfortable in the hospital environment, the welcome pack would condense these touch points into one easy to use booklet. This would improve the REH's circular economy by reducing the amount of paper printed at the hospital.
The group produced 4 separate design opportunities for the course. Although unique to different areas of the attachment, each proposal offered a different perspective of Psychiatry of Older Adults.
Manuel and Indre's simulation experience focused on heightening the hidden curriculum through empathy. It provided students with a first hand experience of what disorders they are assessing and how it actually feels to have this disorder. They used an app interface along with physical artefacts like VR glasses and body restrictions to simulate each experience.
Jess and Jeanne created the Re[Phrase] workshop that explored the use of music to understand conversations. Through the reading of music, it could be possible for students to understand conversations between psychiatrists and patients. Their game was a listening activity where students would use stickers to pinpoint rhythms in the music and translate this knowledge into patient interviews.
Luke developed a Role Play game that allowed students to learn about the importance of setting up a good environment for the psychiatrists when conducting patient interviews. This included deciding where the patients would sit, what questions should be asked and how to approach sensitive topics.
Testing
We presented our designs to students of Glasgow University's Medical Psychiatry club. Speaking to students from 1st to 6th year meant the feedback came from students both with and without experience of Psychiatry.
They enjoyed the workshops and felt the ideas brought a creative/positive element to what was potentially an unappealing profession for graduates. They enjoyed interacting with the Welcome Pack stating, "I wish we could have one of these study booklets for every attachment."
This was an intensive 6 week project but especially rewarding when we received such positive feedback to each of the design propositions. Overall the Re[Phrase]workshop, Role Play game, Simulation Experience and Welcome Pack fitted seamlessly into the 3 day course. Research undertaken during our time at REH led us to conclude that the best way to teach and promote psychiatry of older adults as a potential career would be to incorporate more experiential learning into the course and increase the amount of time students spent observing the psychiatrists.
Our proposals prioritise experience over lecture based facts and aim to help students remember their time at the REH in a positive way and consider choosing psychiatry as a speciality. By implementing proposed design concepts and making the attachment more immersive it would help even the balance between core knowledge and the hidden curriculum. We returned to the hospital for a final presentation to Robert Clafferty and other staff members. They were excited by the proposition of having workshops focusing on behavioural and communication skills rather than just the lecture based curriculum. They felt the Welcome Pack booklet would be an excellent resource connecting the students with the doctors. Robert also suggested the possibility of updating the content of the booklet throughout the year as the doctors developed new workshops and teaching methods.
Overall I believe the project was a success and working with the exchange students meant I was exposed to new skills that I was able to learn and incorporate in my own work. We worked well as a team, tackling problems efficiently and collating research and assessing the individual concepts so that we could deliver a concise and comprehensive final presentation. The project taught me how to manage presentation timings and to recognise that short, punchy speeches could convey ideas just as coherently as lengthy explanations.