2020 - Individual Project

Dementia is the 5th biggest killer in the world and alongside old age is the only killer with no form of treatment or cure. Scentimental is a human-centred brand that accompanies an individual through their experience of living with dementia and aims to comfort them, improve their quality of life and reduce the onus on carers and family members to look after them in the later stages.

As a brand orientated towards both improving the quality of life and slowing down the onset of the degenerative disease Scentimental aims to utilise the sense of smell to allow individuals to engage better with their memories. Scentimental is divided into three layers of user engagement, designed not only to aid the individual, but to provide them with an independence that benefits their mental and physical wellbeing as well as that of their carers and family members.

At the beginning of the project I created a range of trend cards that explored problems caused by an ageing population. In addition I looked at wearable technology and the future of sesnsory experiences.
From the trend cards I was particularly interested in the growing number of ageing people living with dementia, a number that will only continue to rise as people live longer. I decided that this would be the focus of my self-initiated project.
It was at this point that I decided to incorporate the olfactory system within my design proposal as I was interested in how smell could be used to enhance and bring back memories. In addition I wanted to explore whether or not engaging an individual's sense of smell could be used actively slow down the onset of dementia.
I then created a personal experience journey for someone living with dementia, mapping how the degenerative disease progressed for a specific individual.
To further explore the emotional experience of an individual, and their journey through living with dementia, I decided to map how a user's senses might be affected compared to their memory and cognition. It was this investigation that reinforced my interest in exploring how accessing the individual's olfactory system could potentially slow down the onset of the disease.
At this point I created a mood board to capture the essence of what I wanted the Scent Lab to look and feel like. This involved a very minimal aesthetic that was both clean and sophisticated, but at the same time avoided looking too clinical.
After being diagnosed with dementia a doctor would introduce Scentimental to the individual and their family members, inviting them to attend a session at their local Scent Lab. Here the family would learn about the disease and tackle the surrounding stigma before working with a scent expert to create a 'Portfolio of Scent' based on the individual's memories and life experiences.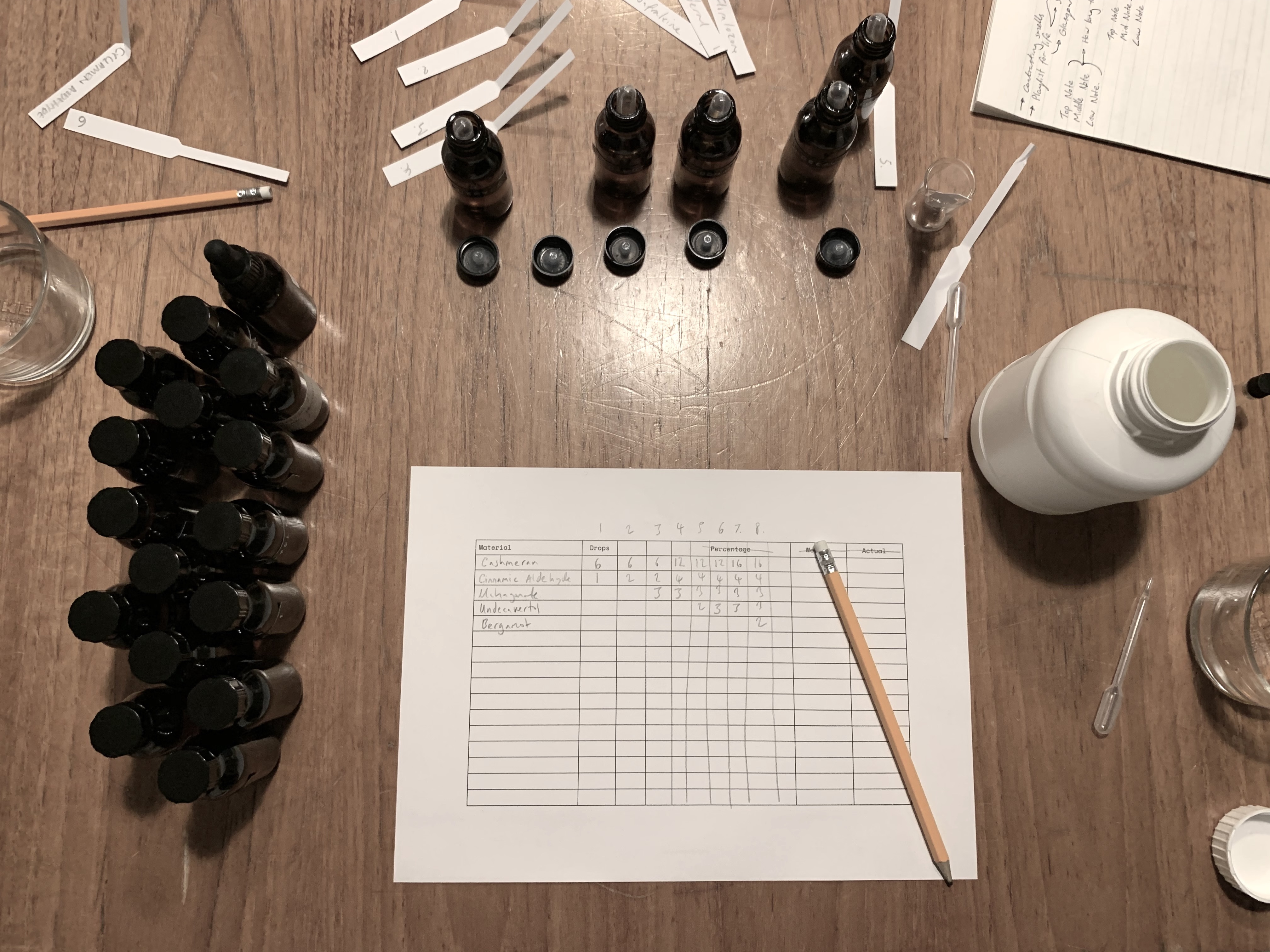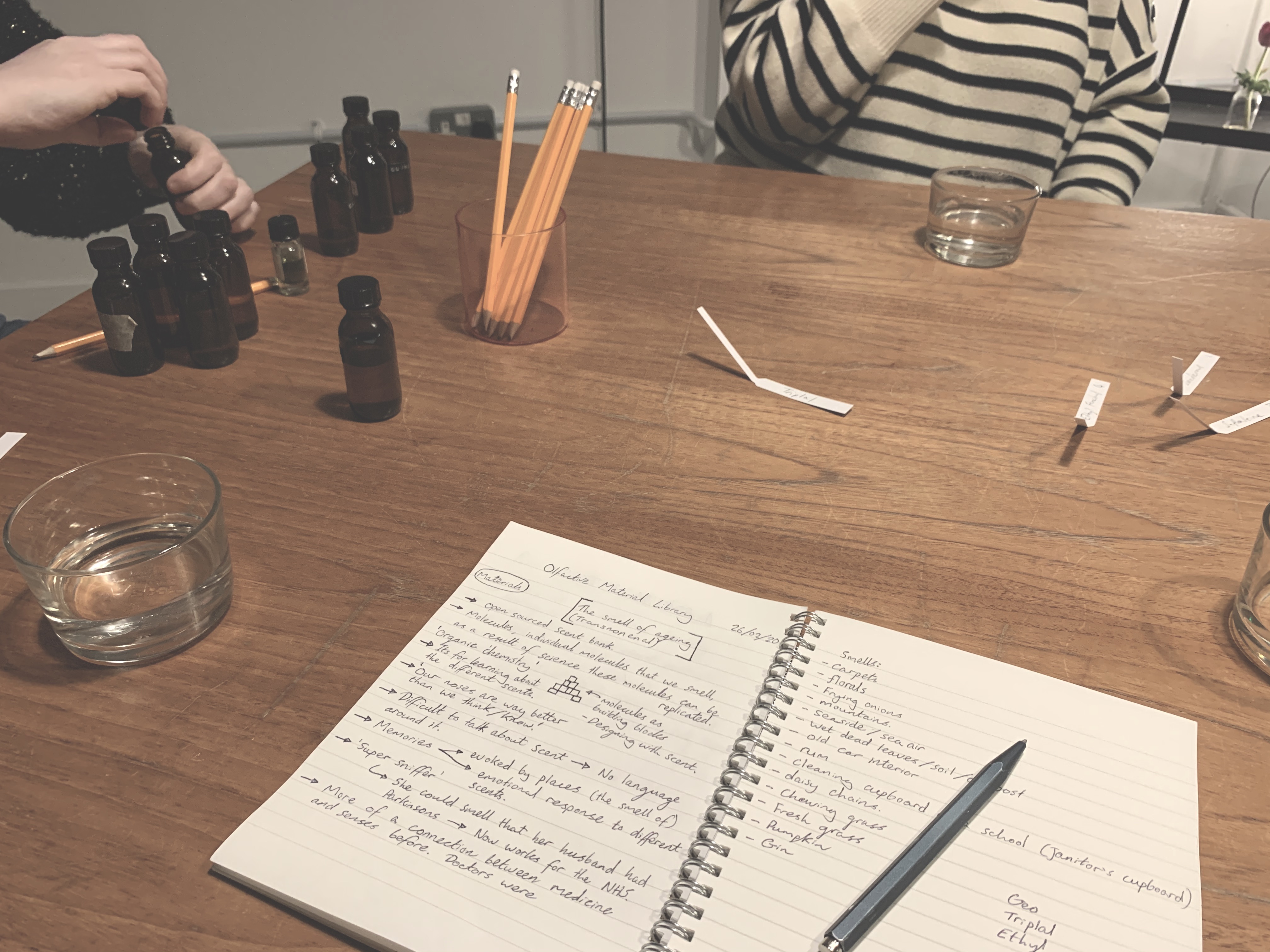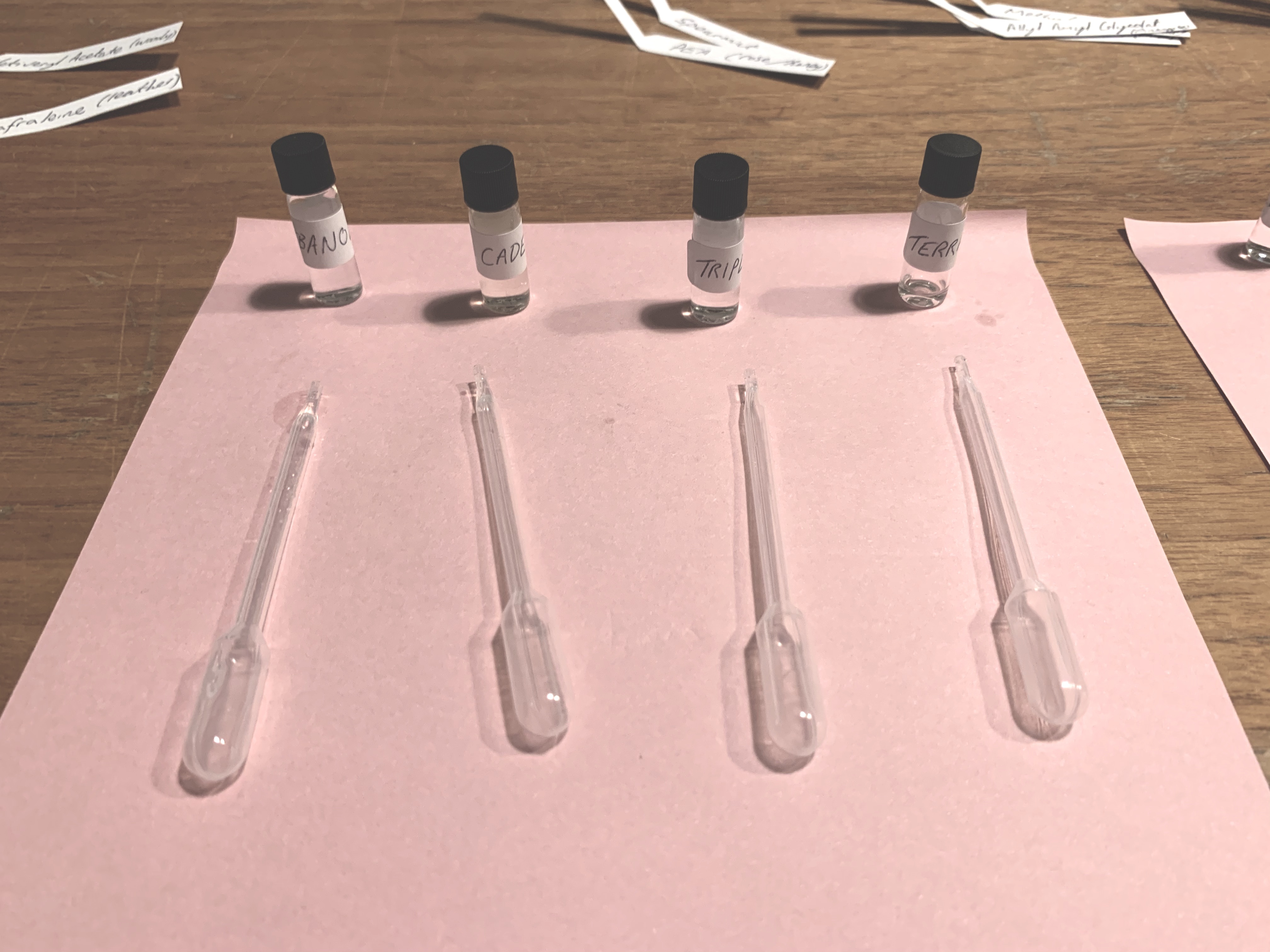 To educate myself on the olfactory system I visited a scent library where I discovered how combinations of different molecules can replicate smells that we associate with specific memories (e.g. the smell of suncream reminding you of a particular holiday). 'Scent is very subjective and very personal, there isn't really that universal language where one scent means the same for everyone. How we interpret scent is based on our cultural and life experiences… in terms of using scent as a cue to trigger memories the scent will have to have been created with that individual's life experience in mind.' (Clara Weale, The Library of Olfactive Material, Glasgow)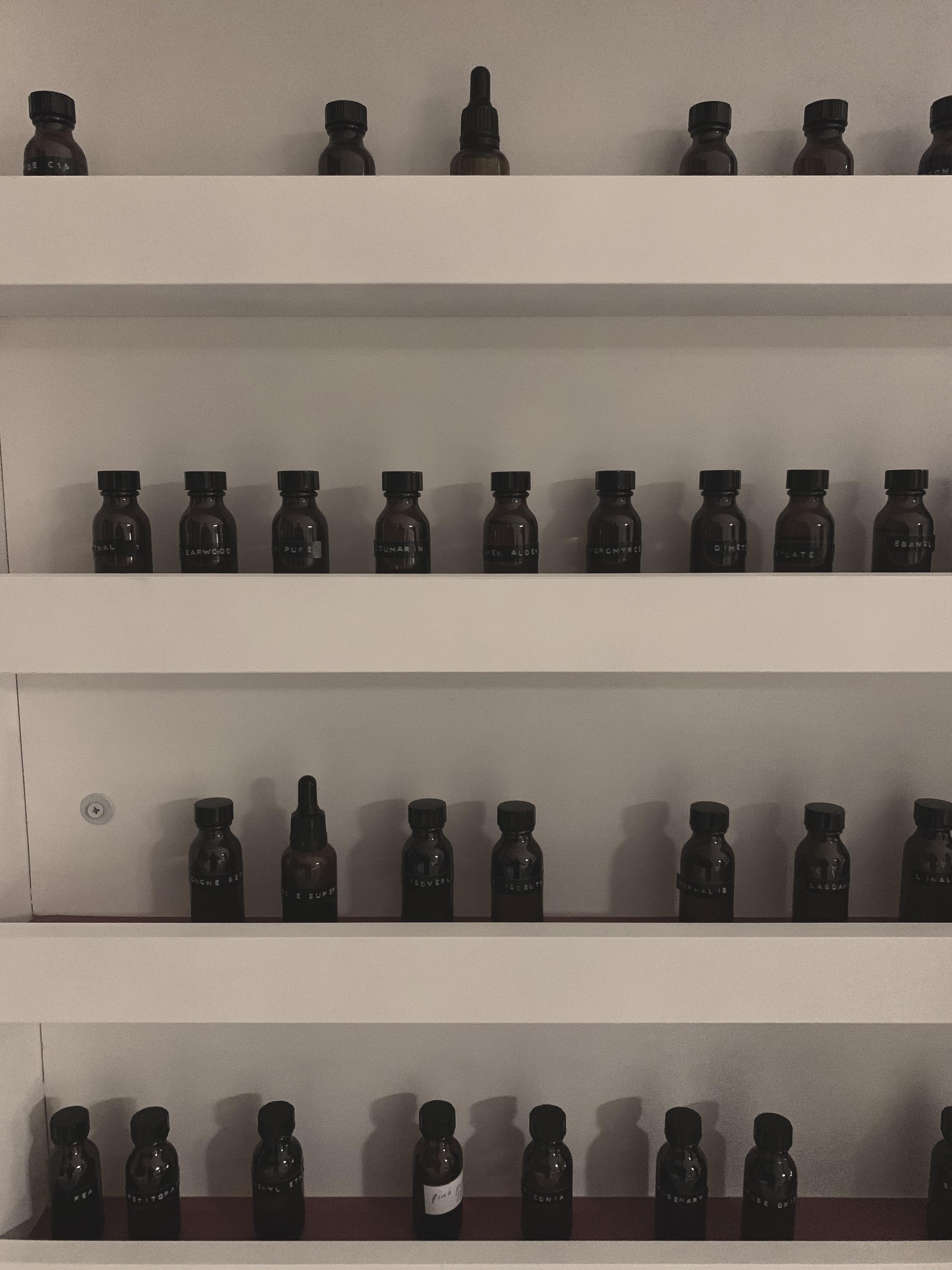 A few examples of locally based scent projects based in Glasgow including ATypical - A brand focusing on skin care products that use AI customisation technology to create an individualised range of products
Covid-19 unfortunately halted our class midway through this project and concluded our 4 years of Product Design at Glasgow School of Art. Despite the interruption I was able to continue to develop my work at home through sketching, rapid prototyping, and using clay and jesmonite to create mockup models.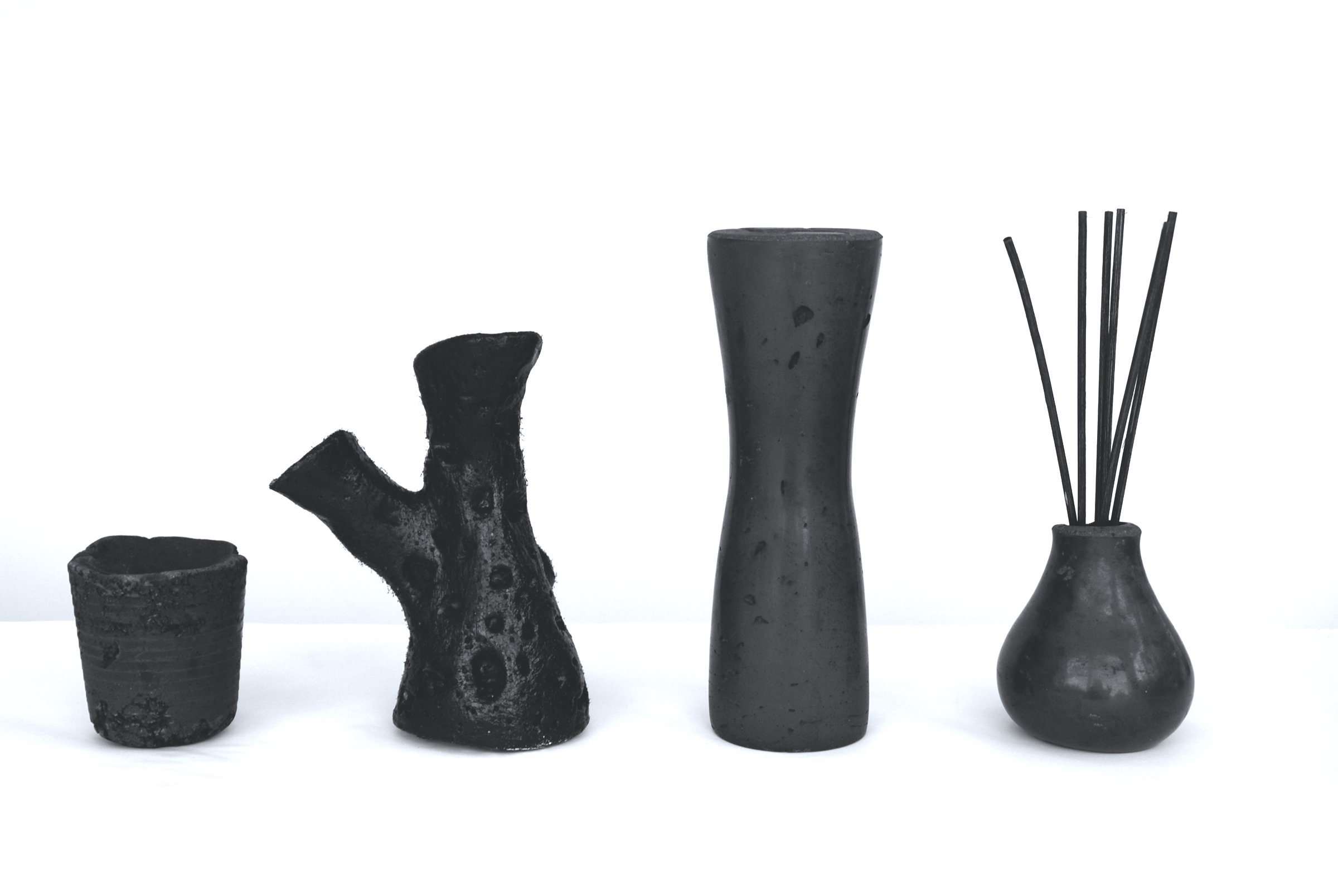 In the later stage of the disease when symptoms have worsened Scentimental will create individualised diffusers and essential oils based on the information generated at the Scent Lab. These diffusers can be placed around the home and used to both trigger happy memories and as prompts to help the individual navigate their home or the activities of daily living. The diffusers are made from lava rock which is recognised for its healing properties and grounding, calming qualities. As a porous rock it's a good material for holding and diffusing oils, slowly releasing their fragrances over a long period of time.
Scentimental at this point fades into the background and the family is left with a method for helping the individual continue to live their life to the fullest in the comfort of their own home. As people progressively live longer I believe it is vital for me as a designer to create experiences such as Scentimental that challenge the conventional norms of dementia care and work alongside scientists and healthcare services in a cross-disciplinary effort to provide the treatment of tomorrow.