2019 - Individual Project

Discovering the broad range of what contemporary design practice can be and exploring an approach to practice that interests me as a designer. Through finding inspiring designs and synthesising common, or individually distinctive, aspects of each I will create my own project brief that adheres to a theme of either food or family.

The product is a wearable, self-powering and networking bag that enables nomads to charge their devices on the move and connect with digital nomads as they travel. As well as the functionality of the bag it will also be fashionable for the nomad community to use; combining their interest in technology with travel equipment such as bags. I want to address the growing number of digital nomads that are now location-independent and have the ability to work from wherever they travel to. This demographic can be anyone that chooses this lifestyle but usually falls under my target audience aged 18 to 40.

By 2035 there is going to be an estimated 1 billion digital nomads worldwide and I believe there is an opportunity to increase the productivity and overall travelling experience for these people. The location-independent nature of the work means that my concept could work anywhere in the world.

To allow digital nomads to work on the move, giving them more opportunity to enjoy the places they visit. Constantly moving means the nomadic lifestyle can be lonely, therefore I want to incorporate an element of connectivity. This, achieved through pairing with other digital nomads, allows users to meet new people and form relationships for leisure or work thus allowing them to keep in contact and utilise a variety of skills practiced by other nomads.

The product will be function using solar panels integrated into the front surface of a chest bag. The solar panels, connected to an internal battery, will provide users with wireless charging for their smartphones. The detaching solar panel can be placed on windows (planes, cars, cafés) in order to provide users with electricity to power their essential devices. The product would also connect through an App allowing the user to 'pair' with other nomads, creating a network of like-minded people.









Pauline van Dongen's work on wearables has inspired me throughout the project. The Solar Shirt, created in 2015, operates using 120 thin solar films integrated into a t-shirt. Users are able to charge their phones on the move. I believe this type of technological integrated clothing will shape the future fashion industry.
The next stage of my design process was to establish the materials and aesthetics that would suit my proposal. I wanted to create a product that would fit the needs of digital nomads whilst harnessing smart wearable technology and using natural resources as a means of power the device.
Interested in renewable energy and smart wearables, I began to look at ways that I could integrate intuitive and resourceful design to digital nomadism. Examples such as project Jacquard and Soli by Google and Levi's demonstrated how fiber-based electronics could be woven into textiles and used as touch panels.
The Adidas Futurecraft 4D is a speculative approach to the future of shoe design, both aesthetically and in its materiality. Similarly to Stella McCartney's ocean plastic Adidas ultraboost, the Futurecraft embraces a progression towards fashionable sustainability. Using a 3D printed sole, the shoe is both functional and doesn't waste materials. Once obsolete the sole can be recycled.
"A 'Digital Nomad' is one who is able to adapt to living in a variety of locations whilst working online to earn a living. To me, it means having no commitments which results in a freedom that keeps me happy and inspired."
"You are forced into knowing what YOU want to do and where YOU want to go. Therefore, I believe that as a result, you have a lot more self-awareness, ambition and drive."
"It does get very lonely, at least compared to being in an office. But office relationships are not much different from childhood relationships, you are friends simply because your parents or job brought you to one specific place. Life is what you make of it and you find friends where you are at any time. Certainly easier to find companionship in an office, but it's worth the trade off to live one's life 100% free."
This was an opportunity to see how the bag would fit within the context of a digital nomad's hectic lifestyle.
The first scenario was the journey of a nomad arriving to a new country and going to a cafe to work. Upon settling in the cafe, the user detaches the solar component from his bag and attaches it using a suction cup to the window of the cafe. Consequently the user can continue working from his laptop, phone or tablet without the need for electricity sockets. Whilst working, an RFID chip built into the bag (powered by the solar panels) simultaneously pairs the nomad with someone else using another SolarTribe bag. Instead of conventionally meeting each other, the product allows users to meet like-minded nomads for leisure or work connections through the SolarTribe app.
Scenario two incorporates a nomad arriving at an airport ready to travel to their next destination. The individual tries to work in the airport but doesn't have enough time to finish everything before their flight departs. As they begin boarding the individual realises that their phone, vital for work, is low on charge. They detach the solar compartment and attach it to the airplane window. This allows them to continue working throughout their journey and complete what needs done before landing at their next destination. Whilst on the plane the Solar Bag allows the user to connect with other digital nomads as they travel to their next destination. In the airport the indivudal is able to use the SolarTribe app to see the people their bag has connected with. Speaking to these people forms new relationships and the individual doesn't feel as lonely in the unfamiliar country.
As a starting point I focused on wearables. They have become more popular in the past decade with the variety of wearables available continuing to grow. In conjunction to smart watches, fitness trackers and head pieces, there will be a rise in wearables for other parts of the body.
'Melonia', another 3D printed shoe successfully integrates fashion with technology. As a form of industrial ecology, the high heels are printed using precise scans of user's feet. The printed elements allows the shoes to be broken down and reused, creating a circular economy within luxury fashion.
To enable the Solar bags to connect with each other the user would require the SolarTribe app. The app would provide a digital platform for users to monitor the charge status of their bags as well as creating a profile of all the digital nomads they have met and connected with.
Using RFID chips built into each bag, the user would remotely 'pair' with other nomads within a 100 metre radius. Creating a digital community on SolarTribe would allow nomads to create new connections and form useful business connections. After pairing with other nomads, a community is formed on the SolarTribe app. This will indicate to users who they have previously met and if they are in the same city/country as them. A map at the bottom of the app allows users to see where they have travelled to, update their next destination and view where their SolarTribe companions are going next.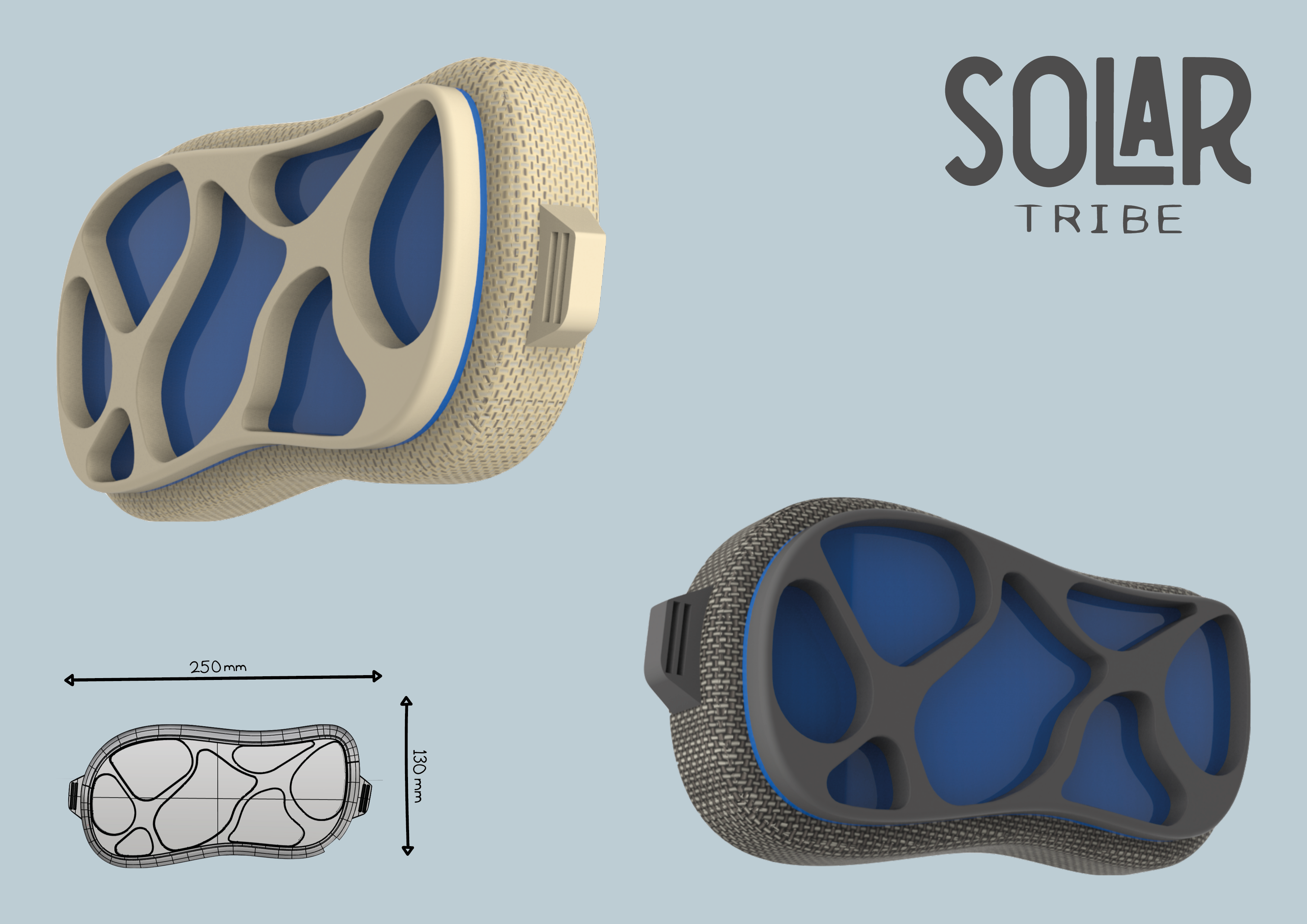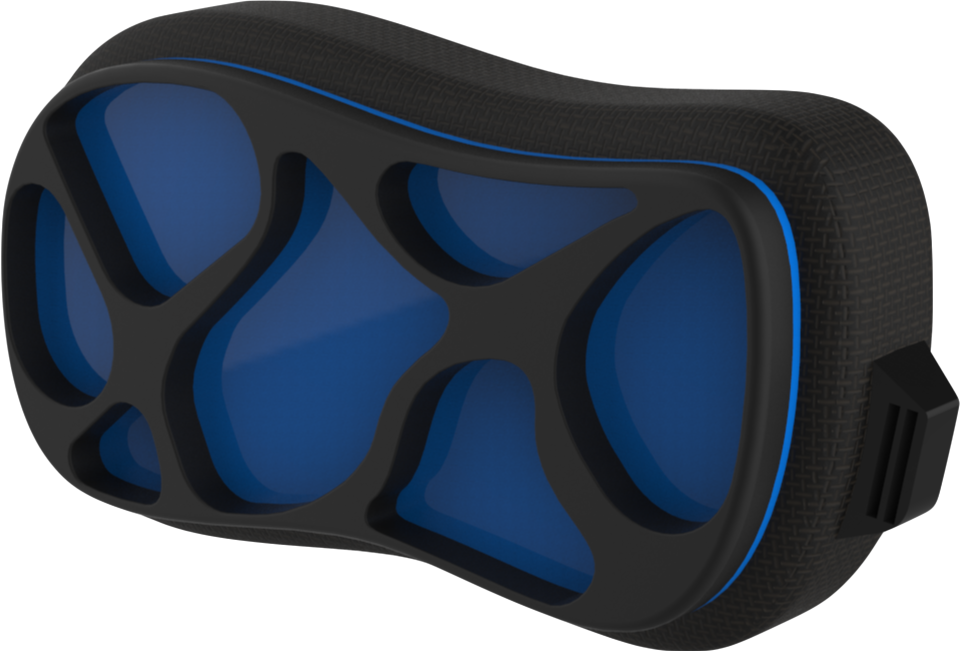 Lens on practice was a challenging project that required a lot of commitment over the course of seven weeks. As the first individual project I was attempting there were many obstacles to overcome. These included conducing a vast amount of research alone, processing it, and being concise when developing concepts from my insights.
The lenses produced at the beginning were vital in helping to shape the direction of my project. Researching design within the context of transportation, furniture, travel and fashion helped me to develop my interest in designing for the travel industry. After discovering how many people have chosen to leave their desk jobs to pursue new careers travelling the world as nomads, I was inspired to create a product that would help them. In the beginning of the project I felt overwhelmed by the scope I had over my outcome. Creating my own brief helped settle this overwhelming feeling and allowed me to focus on digital nomadism as opposed to co-working spaces that I had started the project looking at.
The storyboarding workshop also helped define moments that my product could be used in. It was very useful meeting Lee Irvine as he had first hand insights into the rapid lifestyle of working on the move and taught me the importance of plotting and visualising the stages of a product's journey to discover potential friction points.
Overall I was excited with my outcome for the project. SolarTribe could be developed as a brand, utilising methods of communication such as promotional videos, advertising and a detailed, descriptive user interface for the app. A further investigation into wearable technology could result in a more refined outcome; using the knowledge absorbed on fibre-based electronics to create touch panels on clothing as well as renewable sources of energy to further improve digital nomad's travelling experience.